T
he Jefferson Parish East Bank Consolidated Fire        Department, a Class 1 department, was formed in 1952 after better fire protection was desired by citizens in the rapidly expanding East Bank of Jefferson Parish.  Since our inception the department has strived to improve service in our first due area of residential, commercial, and mixed use properties. Our first due encompasses the region from the Orleans Parish Line to Hickory Avenue/David Drive (east-west) and from Lake Ponchartrain to the Mississippi River (north-south). 


              Currently the department succeeds at this goal by operating 10 fire stations and several support facilities.  We  employ a total of 250 civilian and career personnel.  The East Bank Consolidated Fire Department proudly protects over 180,000 residents that live in an area of 26 square miles.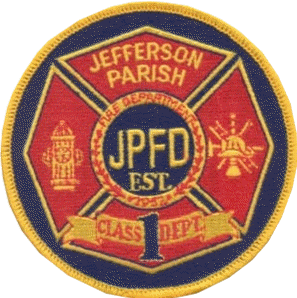 Director:

Joseph R. Greco, Jr.

Public Education Officer:

Keith Neidlinger

Headquarters:

1221 Elmwood Pk. Blvd. #704

Harahan, LA 70123

Telephone:

Emergencies: 911

Main: (504) 736-6200

Fax:   (504) 735-6209

Arson:(504) 736-6249


Personnel in the 3 platoons of the suppression division work 24 hours on the job and 24 hours off the job for 5 days and then have 6 days off.  These paid firefighters answer a wide variety of calls ranging from assisting the ems and investigating fire alarms to extricating car accident victims and extinguishing fires. 


The future looks bright for the department as we continue our goal of providing the best possible service to those that call upon us in a time of need.  Improved training, equipment, and over all planning will truly help this Class 1 department "serve to save."